Pioneer CBD Nutritional Supplement Company, Green Roads, Appoints New President, Craig Fabel, to Drive Day-To-Day Operations and Strategic Growth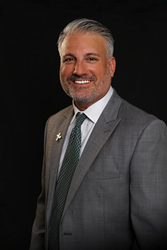 Green Roads (GR), ranked as one of the top 10 CBD hemp brands in the country by Forbes in 2017, has recently appointed Craig Fabel as president to lead the company's burgeoning expansion.
In his new position, guided by his strategic leadership successes delivered through his career, Fabel will work alongside GR Founders Arby Barroso, Laura Baldwin Fuentes, Danny Perdeck and Jim Tundidor. At the helm, he will drive and manage the trailblazing company's operations and execute its long-term growth strategy. With GR's diverse line of pharmacist-formulated products, Fabel will position the company to accelerate expansion, now supported by the game-changing passage of the new U.S. Senate Farm Bill legislation [June 28, 2018] that legalizes hemp as an agricultural commodity and removes it from the federal list of controlled substances.
Fabel brings to GR decades of experience from healthcare and technology companies, consistently driving strong revenue and executing complex business relationships that make a positive impact on company's results. His career includes an executive management position with a publicly traded company that increased revenue in seven years from $150 million annually to over $1.5 billion.
Most recently Fabel was a partner in a medical wholesale distribution company that sourced large volumes of branded product both domestically and internationally. Prior to this, he led two high growth early-stage companies. He was co-founder of pulseMD, a health information technology company focused on emergency medicine. He formerly served as vice president of sales and business development of FoundryOne, Inc., a San Francisco-based company focused on identifying disruptive technology within research labs of major corporations. He also led the corporate sales relationships that secured exclusive client relationships with firms such as Telcordia Technologies.
His experience includes seven years with PSS World Medical, five of which he spent leading sales and operations of large business units, managing the integration of multiple acquisitions and evaluating new products and services. In his last position with PSS World
Medical, Fabel led the development of the company's e-business strategy, reporting directly to the company's CEO and board of directors.
As a teen, the Westchester, New York native, moved to Boca Raton, Florida with his family where he graduated from Boca Raton Community High School. While earning his Bachelor's Degree in Marketing at Florida State University, he played football and was named Humanitarian of the Year by the University with the award presented to Fabel by the Governor of Florida. After spending various executive tenures in New Jersey and California, Fabel, 48, now lives in Boca Raton, Florida with his four children.
"Craig is the perfect fit for our emerging brand that we have built with integrity and highest of standards through the medical leadership of a licensed compound pharmacist," noted GR Co-Founder and Chief Evangelist Arby Barroso who serves as the Chair of the Medical Marijuana Advisory Board for Broward County (appointed by the Broward County Commissioners) and works daily to educate and promote the benefits and advantages of CBD, and dispel the related misunderstandings and misinformation.
GR, pioneered by Arby Barroso and licensed compound pharmacist Laura Baldwin Fuentes in 2012, is a leading company in the CBD space offering more than 50 products, including ingestibles, sublinguals, and topicals with formulas using the highest quality Cannabidiol and natural ingredients to improve the lives of its customers. To ensure that each new product batch is "clean" — without pesticides, solvents, metals or unnatural substances — all products are tested by a third-party lab that has ISO 17025 accreditation.
With business growth at a rate of over 300% year-to-year, GR is currently the leading CBD product source for more than 1,000 healthcare providers who recommend GR products to their patients, and over 6,000 locations that carry these products including health food markets, pharmacies, head/smoke shops, medical practices, physicians, spas, acupuncturists, and holistic venues.
CBD, an abbreviation for Cannabidiol, binds to receptors in your immune system, providing a variety of medicinal benefits. A chemical compound found naturally in the hemp plant, CBD is one of dozens of cannabinoids found in the hemp plant that do not alter state of consciousness. THC is the only cannabinoid that provides a mind-altering effect.