BigMike, Cannabis King, Hosts Malibu Beach Party To Celebrate Independence Day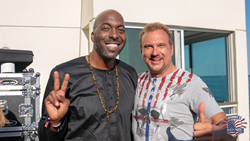 BigMike Straumietis, founder and CEO Advanced Nutrients, the No. 1 cannabis brand in the world, with sales in more than 100 countries celebrated Independence Day with a bang in Malibu, California. World famous for his over-the-top parties, this social media icon that hosts 2 million followers on Instagram (@BigMike) didn't disappoint with this year's 4th of July Beach Party.
The private event was held at a beachfront Malibu mansion, where the pristine estate was transformed into a celebration of Independence Day to honor the brave heroes of our military. Red, white, and blue festooned every inch of party space, while executive chefs and DJ's catered to the desires of every attendee, and a real-life military Humvee greeted guests upon arrival.
"America's birthday is always a big deal. But this year marks the first 4th of July that we've been able to celebrate with legal recreational cannabis here in California, which makes this year extra special," remarks BigMike. "I can't think of a better way to celebrate our country's independence than by lighting up some of the best cannabis on the planet with my guests."
The who's who of the cannabis world attended the party, alongside celebrities, professional athletes, rappers, performers and internet sensations including Too Short, Tara Reid, Paul Pierce, Dirk Ahlborn, Kato Kaelin, John Salley, Curtis Lepore, RiceGum, Michael Costello, Chanel West Coast, and Jonnie and Mark Houston.
The party also featured two bud bars, where guests enjoyed exclusive samples of BigMike's Blends, our new line of pre-rolls that are yet to be released to the public. Partygoers were able to try Hells Bells and Dank Dreams, two of seven outcome-based pre-rolls that make up the BigMike's Blends line.
Post-event, guests said it was the greatest beach party they had ever attended and that they couldn't wait for next year's event, in what has now become an eagerly awaited annual tradition in Los Angeles. Photos of the experience can be seen and freely shared at http://www.marijuanadon.com/4thofjuly/.