Psychedelic Feminism Grants Hand Talking Stick to Women of Cannabis and the Psychedelic Renaissance
Cosmic Sister has awarded 15 grants to support educational presentations by female environmentalists, humanitarians, scientists, artists, and mind-body-spirit wellness experts at upcoming events focusing on psychedelics, entheogens, and cannabis.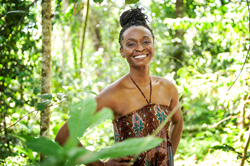 Cosmic Sister's Psychedelic Feminism educational advocacy projects, Women of the Psychedelic Renaissance (WPR) and Cosmic Sisters of Cannabis (CSC), support outstanding women as they step into the spotlight and speak out. "Psychedelic Feminism is about women's self-liberation, healing, and empowerment through intentional journeying with psychedelic plants (and fungi) such as ayahuasca, cannabis, peyote, iboga, and psilocybin – nature's evolutionary allies," said Zoe Helene, Cosmic Sister's founder, who coined the phrase. "When women support women, our power to create positive change rises in the collective consciousness. When more men choose to be allies, and that is demonstrated through actions, then hope doesn't feel like wishful thinking. We can foster women's voices until a true balance emerges, and only then will the psychedelic journey be fully reflected in our community."
Cosmic Sister's grants are supported in part by Cosmic Sister's partner and primary sponsor, Medicine Hunter. "Psychedelics help to promote harmony and a profound sense of interconnectedness of all things," said ethnobotanist Chris Kilham, founder of Medicine Hunter. "And that understanding creates a certain obligation and responsibility to acknowledge and promote and maintain that understanding."
Cosmic Sister's WPR and CSC projects are fully tax-deductible through Cosmic Sister's non-profit fiscal sponsor, Multidisciplinary Association for Psychedelic Studies (MAPS). "Cosmic Sister's educational grants help elevate women's voices and participation within the movement and beyond," said Jade Netanya Ullmann, MAPS Major Gifts Officer and Connector. "Women bring a distinct perspective to psychedelic science and medicine, and their voices are essential in shaping a new global culture that values equality, vulnerability, safety, and the healing and empowerment of all."
Last year Cosmic Sister sponsored actress and cultural activist Kateri Walker at the Spirit Plant Medicine conference in Vancouver, BC, and she received a passionate standing ovation. "I took a big breath. I opened my heart with Love, I asked Grandma Aya to embrace me, and I spoke. I spoke my truth. I spoke my love. And then I faced my fear. A life of fear that denied me my voice," Kateri said.
Landscape architect Susan Sheldon, who spoke at the Cannabis & Hemp Conference in Vancouver, BC, last year, was the only plantswoman in a line-up of male growers. "The Cosmic Sister grant gave me an opportunity to speak with a feminine voice for cannabis and to the relationship we, as growers and consumers, have with the plant medicine," Sheldon said.
Helene also promotes safety (especially for women) and responsibility. "Stay legal, even when you feel the laws are antiquated—which they are," she said.
2018 COSMIC SISTER EDUCATIONAL GRANTS FOR PRESENTATION (IN ORDER OF EVENT DATES)
Cosmic Sister awarded three WPR grants to support presentations at Sleeping Octopus Assembly on Psychedelics (SOAP) in Pittsburgh July 13 – 15: indigenous peyote sustainability researcher Dawn D. Davis, PhD. (cand.); Vilmarie Fraguada Narloch, PsyD., an expert on harm reduction in clinical practice; and Monnica Williams, PhD., ABPP, who specializes in cognitive-behavioral therapies with a focus on racial PTSD.
Cosmic Sister awarded two CSC grants to support presentations by cannabis geneticist and entrepreneur Eleanor Kuntz, Ph.D., and integrative medical doctor Selma C. Holden, MD, who will lead cannabis-enhanced yoga at Healing Power of Cannabis (HPC) conference in Montpelier, Vermont, on September 15.
For this year's Spirit Plant Medicine (SPM) in Vancouver, BC, November 2 – 4, Cosmic Sister awarded four WPR grants in support of presentations by sociologist, yoga teacher, and former Olympic athlete Samantha Retrosi; counselor and psilocybin political campaigner Sheri Bessi Eckert; author and entheogenic medicine integration coach Elisabeth Bast; and ethnobotanist and interdisciplinary scholar Claudia J. Ford, PhD, and one CSC grant for cannabis entrepreneur and educator Selena Wong.
Writer and human rights activist Ifetayo Harvey received a WPR grant to present the keynote speech in New York City at the launch of the People of Color Psychedelic Coalition (working title), a new group she founded for people of color to change the discourse around psychedelics, plant medicine, and harm reduction in New York City this September.
Cannabis entrepreneur, yoga instructor, and massage therapist Chioma Nwosu was awarded a CSC grant in support of her new cannabis yoga series, Elevated CannaFlow, in Los Angeles.
Three previous recipients of Cosmic Sister grants – natural products entrepreneur Caitlin Moakley, ethnobotany graduate student Dawn Musil and photographer Tracey Eller – have been awarded WPR grants to provide speaker and social media support at Spirit Plant Medicine and Healing Powers of Cannabis. "Professional photographs can make a world of difference in educational advocacy," said Helene. "Inspired images inspire others."