"BigMike" Straumietis, Global Cannabis Expert, Becomes the First Cannabis Influencer on Instagram's IGTV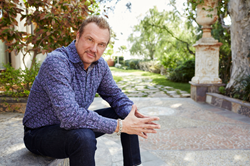 Instagram recently launched their new app called IGTV that features full-screen, hour-long videos that are created by the accounts you follow. With well over one billion subscribers to the service, BigMike Straumietis, the founder of Advanced Nutrients, one of the largest cannabis businesses in the world, with products in over 100 different countries, proudly becomes the first cannabis influencer on IGTV, Instagram's latest platform.
"I'm proud to be the first cannabis influencer on IGTV. To me, this is as much a responsibility as it is an opportunity— I'm looking to pass real, relevant, reliable cannabis information on to the next generation. Instagram has proven itself to be that generation's platform of choice," BigMike declares. "I'm excited to be the first major cannabis player on IGTV and look forward to connecting with even more cannabis enthusiasts and young entrepreneurs through educational and entertaining content."
Since the younger generation overwhelmingly gets their information from watching videos on mobile devices, this honor becomes an important platform for passing down wisdom regarding advanced cannabinoid research, cannabis related products, and its myriad of benefits.
"We've made it simple, too. Just like turning on the TV, IGTV starts playing as soon as you open the app. You don't have to search to start watching content from people you already follow on Instagram and others you might like based on your interests. You can swipe up to discover more — switch between 'For You', 'Following', 'Popular' and 'Continue Watching'," states Instagram's Co-Founder & CEO, Kevin Systrom.
"Also like TV, IGTV has channels. But, in IGTV, the creators are the channels. When you follow a creator on Instagram, their IGTV channel will show up for you to watch. Anyone can be a creator — you can upload your own IGTV videos in the app or on the web to start your own channel," Systrom continues.
As Instagram continues evolving social media, BigMike enthusiastically concludes, "My life's mission is to make cannabis an acceptable and everyday part of healing humanity, and IGTV's one billion subscribers will help tremendously in my pursuit of that goal."