"BigMike" Straumietis, World Premier Cannabis Expert, Warns Against the Arrival of Corporate Players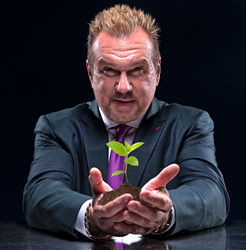 "BigMike" Straumietis, world-premier cannabis expert and CEO of Advanced Nutrients, warns against the arrival of large corporate players who are now cashing in on marijuana-associated products.
The fight is on — particularly when one pits Advanced Nutrients, a company that has always stated its products were for cannabis, up against its new primary competition: Scotts Miracle-Gro.
"A lot of people don't realize that Scotts is the exclusive distributor for the consumer products of Monsanto and they have a very, very close relationship," BigMike cautions. "I warned people about this all the way back in 2011 about what was going to happen."
But Advanced Nutrients is certainly no minuscule company either. This global enterprise is one of the largest cannabis businesses in the world, with products in over 100 different countries and manufacturing facilities in both the U.S. and Canada.
"I can't help but wonder what kind of value a company like Scotts is going to bring to our industry and how they are going to help the community and move it," BigMike continues. "And here's the thing, once a company like Scotts enters our community, a Pandora's Box will open to big corporate America and you will see more of these types of corporations start moving into our industry because, you see, in this world economic crisis, big business is looking in places they never would normally go to increase their profits."
BigMike already has many longtime growers and customers in his corner and said, despite the fact that few heard his warnings about corporate culture coming to cannabis in 2011, now more and more people are listening.
"This Scotts thing is the bane of our community," BigMike further warns. "We must come together, and if we do come together, we can win this thing and we can have a seat at the table with the big boys. Our community needs to have that seat at the table because th